Joseph R. Yaker | Plano, TX
Yaker Hair Restoration + Med Spa
Address: 3242 Preston Road, Suite 160 Plano, TX 75093
Tel: (972) 468-8301
Website: yakermd.com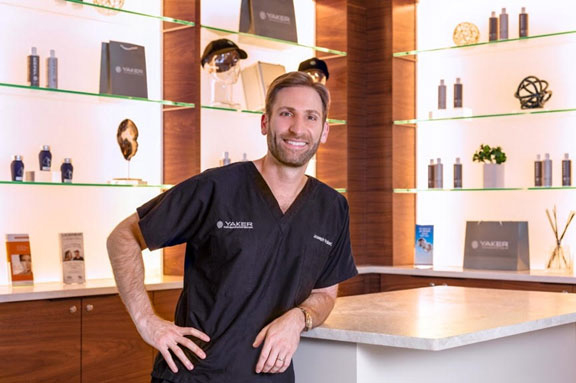 It was after seeing his first hair transplant at the tender age of 15 that Dr Joseph Yaker's passion for aesthetic hair restoration began.
Just a few years later that he attended the University of Texas in Austin, where he completed his medical training at Ross University School of Medicine.
With a holistic approach to education and training, Joseph went on to finish his internship in general surgery at Mayo Clinic, later becoming board certified in Family Medicine, before completing his residency at the University of Kansas Medical Centre.
A one-year fellowship in hair transplant surgery followed, under the guidance of the world-renowned surgeon, Dr. Mark S. DiStefano of the DiStefano Hair Restoration Centre in Massachusetts.
As the founder and medical director of YAKER Hair Restoration in Texas, Joseph's personal mission is to "make every patient that walks into his office, feel unique and important."
Combining many years of expertise in the prevention and treatment of hair loss in both men and women, Dr.Yaker and his team pride themselves on only offering the most technologically advanced surgical and non-surgical range of treatments to their patients.
Dr Yaker has also formulated his own unique oral and topical Finasteride medications, all with USP (United States Pharmacopeia) ingredients that are produced once ordered, as compared to generics of the same medication.
This includes SmartGraft™ FUE and FUT technology, Precision PRP™ Therapy which utilizes a specialized cell analysis software to verify your platelet levels and calculates your specific PRP treatment dose based on your platelet levels. As a result, this patient specific treatment provides consistently high concentrations of PRP. Dr. Yaker also offers low-level laser therapy via the portable device, LaserCap®.
During his career to date, Dr.Yaker has performed more than a thousand hair transplants with great success. While his commitment to offering an approach that's not only personal, but tailored to optimise results for each patient, remains as strong as ever.

Dr.Yaker is currently:
• Fellowship trained and board certified with the American Academy of Anti-Aging Medicine.
• Recommended by the American Hair Loss Association.
• An active member of The International Society of Hair Restoration Surgery (ISHRS).
• The only Dallas-based physician appointed to the International Alliance of Hair Restoration Surgeons (IAHRS).
• One of a select few recommended by Joe Tillman, The Hair Transplant Mentor™.
See just a couple of incredible results which display the standard and caliber of work performed by Dr Yaker.