HDC Hair Clinic – Nicosia, Cyprus
Phone: +357 22 346161
Fax: +357 22 730920
Website: hairtransplants-hdc.com
HDC Hair Transplant Clinic, is a leading hair restoration Clinic in Europe based in Nicosia Cyprus, specializing in Follicular Hair Transplantation (FUE). HDC was first Clinic in Europe offering FUE since 2003 with sustainable state of the art results ever since. HDC has been publishing excellent natural results since 2003 in numerous international independent hair transplant forums. You can see a few in the page below and many more in HDC website. The results are presented with clear before, post op and after photos. It has a reputation of creating great hairline which are design to fit every individual patient.
You can see in this video the experience of a patient with HDC, coming from the US from arrival to 7 months result. HDC has 2 surgeons, Dr Kyriakos Maras and Dr Christina Vrionidou who both offer state of the art Results. The work like hairline design, punching, sites and designing a hair transplant surgery to the best benefit of the patient is done entirely by the doctors.
HDC has 6 experienced technicians who have been working there for many years, with high skills in extraction, preservation of the grafts and manual placing with forceps, with speed exceeding 500 grafts/hour. All the medical team and not only, have as their top priority the best interest and comfort of the patient and this genuine care gives the patient the confidence that he is in the right hands.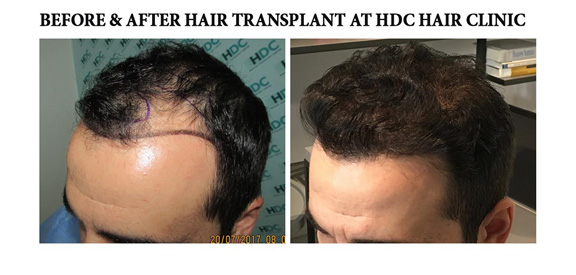 HDC Hair Clinic offers a unique post operation care experience. Overseas patients are welcomed to stay up to one week in the luxury clinic apartments for free and visit the clinic every day for after care and for washing and cleaning both the transplanted and donor area. This will result faster healing, less scarring and enhancing the Hair transplant result.
You can see in this video how you should look the first ten days after your surgery and explains why post operation care is important. A few results can be seen here below but for a much more extensive overview of the high caliber results please visit HDC website here: https://www.hairtransplants-hdc.com/hdc-results/results