Nanogen Hair Building Fibers & COUVRe Masking Lotion
What are Nanogen fibres and COUVRe?
Nanogen Fibres and COUVRe are two of the most popular concealer products out there. When you view the Before and After photos and the videos below, you will be surprised by the realistic appearance of hair accomplished by these products. Nanogen Fibres are applied to the hair, and COUVRe is a colour application which goes directly on the scalp, like makeup. The first provides an immediate thickening effect to the hair itself, and the latter helps reduce the appearance of skin under the hair. Those with thinner hair tend to use both products for double the effect. COUVRe is pronounced "koo vray".
I used to use them both but since my hair transplant procedures don't need to now, however i can highly recommend both products as both helped me get through some difficult times.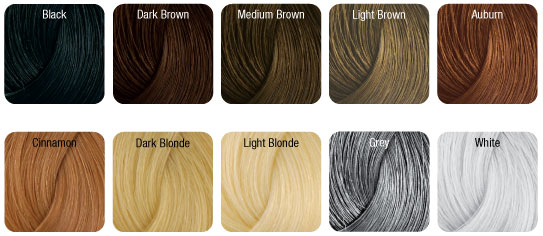 * Nanogen comes in 10 colours which can be mixed to match your exact hair color.
* COUVRe comes in 8 colours and in one size — a small, handheld tube.
Information on the fibres here : Nanogen Fibres
How to Apply Nanogen Hair Building Fibers
Towel or blow dry your hair, holding the container in one hand 3-6 inches above the area to be thickened. For targeting small spots, you may bring the container right to the area. Shake nanogen fibres liberally over the desired areas. Don't worry about any fibers falling into surrounding hair, because they will simply disappear. If you cannot see your back-of-the-head area in the mirror during application, use another hand to guide you to the areas to be enhanced. If necessary, apply Nanogen fibres with your head down, and look in the mirror afterwards.
Fill in further as needed. Patting your hair will help disperse fibers throughout the area. Use an open,plastic, non-bristle brush to style your hair as you wish.
Who are Nanogen Fibres and COUVRe For?
Both of these products are for anyone seeking to instantly create the appearance of thicker hair. The results you can get from Nanogen Fibres can equate to 2 years on a hair growth treatment in a matter of seconds. COUVRe is intended for men with significant thinning and goes right on the scalp.
You can of course combine the two for an amazing synergistic effect. We have noticed many celebrities at Hollywood social events who have used these products. It's that good. And no, I can't tell you who…but you'd have a "brave heart" if you were to guess.
Nanogen Fibres and COUVRe in Rain, Sleet, Wind and Snow
The strongest wind or driving rain will not affect Nanogen or COUVRe. They do not stain or smear. Nanogen fibres are totally undetectable, even from as close as two inches. Nanogen stays securely in place, giving natural-looking thickness and fullness until the next time you shampoo. However, both products remove easily with any shampoo. You can apply it after applying your topical solutions like Rogaine Foam, Tricomin or Revivogen.
Nanogen and COUVRe can provide realistic results. By combining your own thinning hair with the fibers, you will actually see a thicker, fuller head of hair. You'll be able to style your hair in ways you haven't been able to in years. The Nanogen fibres product comes in a professional looking, discreet molded container with numerous openings for dispensing the fibers onto your hair.COUVRe has been used by dermatologists for years and is regarded as safe to apply directly to the scalp. In fact, many people who have had hair transplants use COUVRe to help create the appearance of even thicker hair after their surgery. COUVRe comes in a tube with a special applicator that you should have no problem using. One tube typically lasts 3 months, so it's economical as well.
COUVRé Protein Hair Expander
This super-high concentration of organic proteins has been molecularly restructured to penetrate the exterior structure of the hair to deliver micronized organic proteins into the hair. 

While these powerful proteins are absorbed into the hair shaft and follicle, the Hair Expander also seals and firms the cuticle of the hair, coats the hair shaft and makes every individual hair thicker. From the very first time you use it, the Hair Expander will actually expand each hair by up to 50%. You will see a significant increase in hair density from the very first you use it. And when used in combination with the Thickening Shampoo, you will be amazed at the improvement in your appearence.
Directions:
Shampoo hair and towel dry. Apply small amount (the size of a 5p) into damp hair especially to thinning areas in front and at crown. Comb or brush through to saturate each strand. Do not rinse out. Leave in hair. Blow dry, comb or brush as usual. Adjust the amount for your hair until the results are just right.
One word of advice is do not over use as when i used to use it it used to make my hair very brittle. You have been warned!